NORBERT H. "Pete" RIEGEL, Lt Col (ret)
Pete was born July 26, 1918, and left peacefully to be with the LORD on February 18, 2009. He was born, along with many siblings, in Washington, Missouri, where he met his lovely wife, Melva Hoelscher, at a park dance. They were wed August 24, 1942 in the same town at St Francis Borgia Catholic Church.

He was drafted in the Army Air Corp on June 3rd, 1942. He was accepted into the Cadet Program and received his Pilot Wings in July 1943. He served with the 487th Bomb Group 8th Air Force where he completed two tours of duty (completing 48 missions) as Lead Pilot and then as Command Pilot during World War II. He flew in the Korean War and then flew reconnaissance during the Vietnam War. He received numerous medals and commendations, retiring from Vandenberg Air force Base in 1972 , a 31 year veteran of the regular Air Force.

After being stationed in several locations, the family settled in Lompoc and has resided at the same residence since 1961. After retiring, he helped his son at Riegelís 76 Service Station. He volunteered at La Purisima Parish as CCD Coordinator and Eucharistic Minister and Lecturer for 17 years. Beginning 1967, he coordinated Right To Life of Santa Barbara County activities, giving lectures for schools and organizations.

In 1976, he received the Pope John XXIII Award and Apostolic Blessing and had the honor of receiving communion from Pope John XXIII that year.

He was a life member of the Order of Daedalion, Knights of Columbus 3rd degree, Knights of Columbus 4th degree, the Elks Lodge, and the Mighty Eighth Air Force 487th Bomb Group where he served as Reunion Coordinator for 37 years.

He spent time at his computer in 1980 writing his memoirs for his children. He self-published the book under the name, "PAPA PETE, The Way It Was". He has shared the book with family, friends, and many loved ones.

Pete leaves behind his wife, Melva, of 66 years and his children, Marsha Meyering of Federal Way, Washington, Cindy Riegel Espinosa and Patty Eads of Lompoc, and Mick Riegel of Oahu. He is proceeded in death by his son, Mark Riegel in 1998. He also leaves behind 10 grandchildren and 13 great grandchildren (with one in the oven) whom he loved very much.

Pete was an honest, humble and modest man who had dedicated his life to GOD, Country and Family. He loved flying, carpentry, sailing, biking, the great outdoors. He will be truly missed by all who loved him.


Memorial contributions may be made to Monsignor Andrew McGrath Scholarship Fund, La Purisima School.

The obituary for Pete, an on-line guest book and a nice photo can be seen at The Lompoc Record web site by clicking here.

Two other articles were just seen about Pete in the eMissourian.com. Click here and here to read them.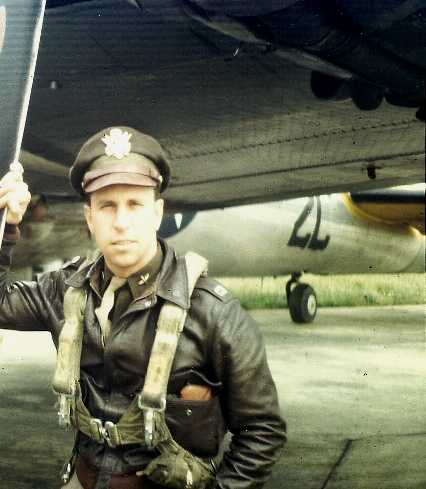 Captain Norbert H. "Pete" Riegel - Pilot - 838th Squadron
A very special friend